Here's a post I did on another forum in regards to the SuperSpring product if anyone is interested...
Well as promised here is a few pics of the SuperSpring install and a review so far.
First a link to their website
SuperSprings Self-Adjusting Suspension Stabilizers
A great install video can be found at
http://www.youtube.com/watch?v=suXaYHouYvs
Here's the Instruction sheet I followed when installing
http://www.supersprings.com/installa...ts/General.pdf
Ordered from Amazon for $328.89 Shipped to WA state.
Parts Installed: Super Springs SSA8, MTKT mounting adapter.
Time to Install approx 1 hour 20 minutes both sides
Tools used: 1 Floor jack, wood blocks, 3/4" wrench, ¾" deep socket, ½" drive electric impact, ½" drive ratchet, C clamp, ½" socket, ½"wrench.
Here's a Pic of the MTKT mounting bracket ready to be tightened down
A pic of the spring itself about to mount rollers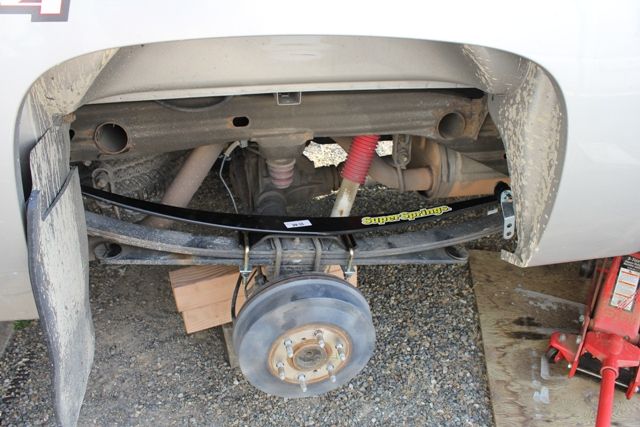 Rear Shackle and roller Note roller in bottom hole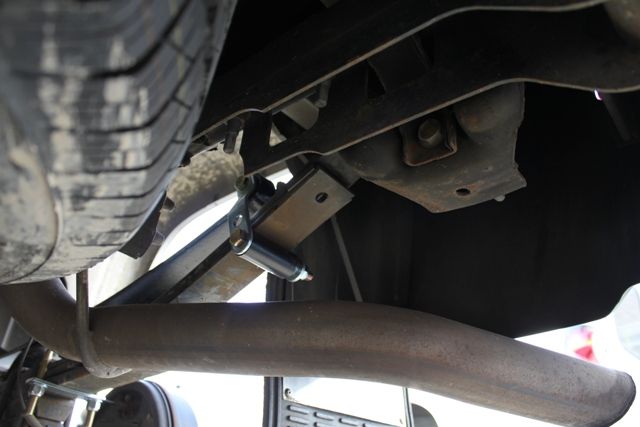 Adapter Bracket U-Bolts and plate
Spring hold down clamp
One side done off to the other. Note roller in top hole of shackle.
Thats all there is!!!!! no real problems at all even for someone with moderate mechanical knowledge
As for a review these things are DA BOMB
With the roller in the top hole of the shackle on the front side and the rear hole on the back this gave the rear of my truck an increase of 2 inches! With my tools in the back it looks like there is nothing in it which is what I wanted.
Handling is much better as there is no real roll when cornering as before and I can not notice any difference in the ride other than no bouncing when going through dips in the road in other words nothing but good things. It may ride a little more like a truck but IT IS A TRUCK!!!!
As for towing we have only had it out on a short run since the install but noticed a big difference in truck squat. With the WD tensioned to get my front wheel wells back to unloaded height the back shows little squat and both wheel wells are equal height from the bottom of the rim. Again nothing but good things. Towed with no problems and noticed little or no sway on the back end of the truck which is an improvement from before the install and truck and trailer are level. Had to lower the ball on my hitch 2 inches which also now allows me to open the tailgate with the trailer hitched, yet another bonus!!!!!
Time will tell and I will update if things change but as for now I am EXTREMELY HAPPY with this product.
My half ton is a real truck now..... sniff....dry eyes....